2007 - 2008 Hunting Season and Bag Limits
PFB: New law eases landowner liability concerns for farmers and hunters.
Text of July 2 press release.
(Camp Hill) -- Pennsylvania Farm Bureau (PFB) says farmers who have allowed hunting on their land will likely continue to do so after the enactment of legislation that increases liability protection for landowners. The legislation (House Bill 13) was signed into law by Governor Ed Rendell on June 30th.
"Farmers now can be more confident that their livelihood won't be at risk when they open their land to hunters. We have wanted our good relationships with hunters to continue because they help us control wildlife damage to our crops while we provide them a place to enjoy recreational activities," said PFB President Carl T. Shaffer. "The General Assembly and Governor Rendell worked effectively on a bi-partisan basis to tackle the problem in record time."
House Bill 13 amends the Recreational Use of Land and Water Act (RULWA), which for more than four decades has provided liability protection for actions that occur on a landowner's property as a result of recreational activity -- such as hunting, fishing, swimming and hiking -- as long as the landowner does not charge a fee. The need to amend RULWA was sparked by a 2006 court case in which the owner of a Lehigh County orchard was found partially liable for injuries caused by a hunter's stray bullet, which struck a woman a half-mile away.
House Bill 13 had widespread support, as the House and Senate unanimously passed the measure. Farm Bureau specifically recognized Representative Harry Readshaw (36th District, Allegheny County), who was the prime sponsor of the legislation, and Senator Rob Wonderling (24th District, including Bucks, Lehigh, Northampton and Montgomery Counties), who sponsored legislation in the Senate.
Farm Bureau notes that the new law balances the rights of landowners with the rights of potential victims. "While the law provides reasonable liability safeguards for farmers and other landowners, the law does not prevent an injured party from recovering damages from the individual who caused the injury," concluded Shaffer.
The new law takes effect immediately.
Pennsylvania Farm Bureau is a voluntary organization with a membership of more than 42,000 farm and rural families, representing farms of every size and commodity across the Keystone State.
Contact: Gary Swan, (717) 761-2740
The Lehigh Valley Hunting and Fishing Extravaganza Pictures: 2007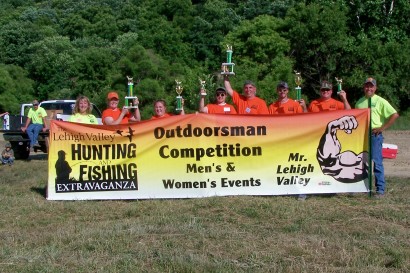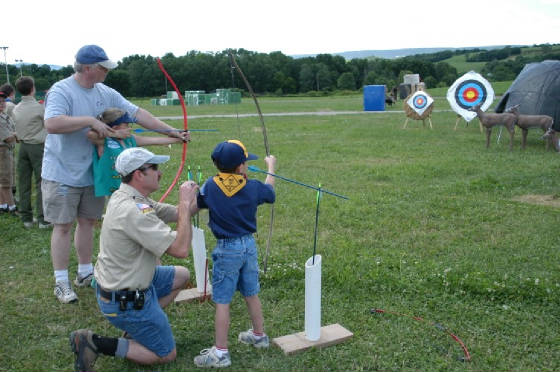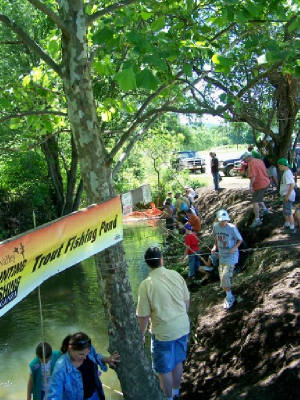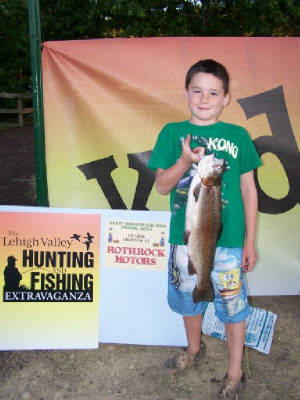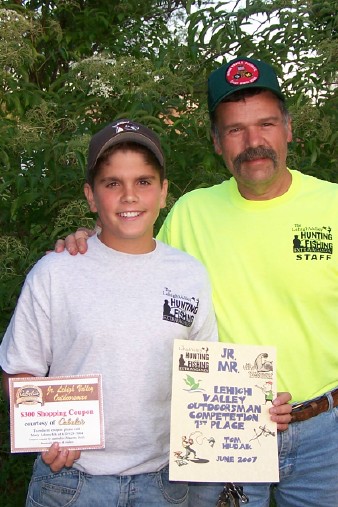 Photos sent in by Bob Danenhower
Bob's Wildlife Taxidermy
4642 Kernsville Rd.
Orefield, PA 18069
610-398-7609
NO NET LOSS CONCEPT:
The U.S. Sportsmen's Alliance has developed a phrase - "No Net Loss" which means the opening of new hunting land if another area is closed to hunting. This guarentees the outdoorsman places to hunt!
The concept was included in the recent Federal Hunting Heritage Protection Act of 2000. Unfortunately the bill was not passed in the U. S. Congress, but it has gathered steam in individual states. Illinois, Georgia and Maryland passed similar bills in 2004.
In PA, H.B. 1576 would direct the Department of Conservation and Natural Resources (DCNR) to manage land to the greatest extent so that there is no net loss of land available to hunting. Rep. Matthew Baker (R) of Wellsboro, introduced the PA Bill, which now awaits action in the House Game & Fisheries Committee. The House Chairman is Bruce Smith.
Here folks, is your chance to be involved. Please write to your legislator. The PA Legislature is ajourned in September, so write to their home office. Similar legislation has been introduced in Oregon as H.B. 2529.
GRANT HELPS WATERWAY CONSERVATION OFFICERS:
A driver in a boat who has been drinking, is just as dangerous as a drunk driver in an automobile. Now we have boating under the influence (BUI) cases which are continually investigated by the WCOs serving the PA Fish & Boat Commission. Recently, the Erie Insurance Group donated a $27,200 grant to the PF&BC to purchase 80 video cameras to use on patrol.
Determining the cause for a BUI suspect is more difficult on water, since there are no lanes, lines or other traffic markings. Recording actual scenes surely helps in the prosecution of offenders. Alcohol was the major factor in four recreational boating fatalities over the past two years. Thanks You - Erie Insurance Group.
A LOOK AT THE NUMBERS:
$20.6 billion - Amount spent annually by hunters in the USA on trips and equipment.
2,800 - Approximate numbers of Bills introduce in State Legislatures across the USA in 2004 that would negatively affect hunting and fishing.
39% - Decline in the number of hunters in California between 1991 and 2001.
60% - Percentage of saltwater fish released alive after being caught by recreational anglers.
11% - Increase in the number of fish caught by recreational anglers in the past 10 years.
THE ANTIS:
Animal rights activists and actual terrorists have been attacking laboratories, veterinary offices and fur producing farms. They do this to intimidate and further their political aggenda.
In Arizona, Gov. Janet Napolitano has signed a Bill - No. 2295, prohibiting animal and ecological terrorism; which terms terrorism as organized crime. The Bill was modeled after a draft Bill which was prepared by the U.S. Sportsmen's Alliance. While in PA, Rep. Robert Gotshall (R) of Hatfield introduced HB 213; which is now in the State Judiciary Committee. Terrorism in PA would be a criminal offense.
In Ohio, SB 9 takes eco-terrorism one step further by protecting hunting preserves. Lawmakers in the entire nation are looking into the dangers of eco-terrorism.
NON-RESIDENTS GET A BIG BREAK IN PA:
Basic license covers: small game, 2 turkey seasons, and deer. - $101.00
Archery Stamp - $26.00
Muzzleloader Stamp - $21.00
Bear License - $36.00
Antlerless Deer - $26.00ea.
Migratory Bird Stamp - $6.00
Total Cost = $216.00
For the same hunting privelages in Wisconsin, a PA hunter pays a total of $595.25
For the same privelage in NJ, a PA hunter pays $525.00
Not fair? Let your officials know how you feel about this - make them change this!