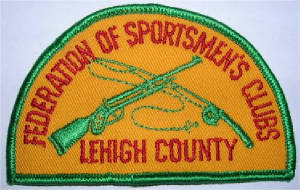 Local Meeting Schedule:
All meeting are schedule for the 3rd Thursday
of the month at 7:30pm unless otherwise posted.
January 15th 7:30PM North End Rod & Gun Club
All meeting are open to the general public.
Here is just a sample of some of the issues PFSC has played a major role in:
Stopping HB 2181 - legislation that would take away control of our game lands from the PGC and placed them under IRRC.
Repealing the Philadelphia Firearms Act.
Establishing fish ladders for migratory species on the Susquehanna River.
Protecting existing club shooting ranges from closure due to noise complaints, through Act 74 and SB 56 of 1997.
Preventing local government from prohibiting hunting in their jurisdiction, through a successful case in the Supreme Court if Pennsylvania.
Insuring the public's right to navigable waterways through a lawsuit over the Lehigh River.
Supporting the bobcat season approved by the PGC - animal rights groups oppose trapping, the most likely way means of harvesting bobcats.
Supported the Conservation and Reinvestment Act, and now "CARA light" and state wildlifegrant funding-national legislation which will bring millions of dollars to PA forwildlife and habitat.
Monitoring firearms legislation and all legislation that could be detrimental to our outdoor heritage.
Oppose any merger of our commisions, especially one under DCNR. We believe any merger would lead to a reduction in services to our fish and wildlife resources and to the sportsmen and women of PA who are proud of our heritage and who want our great traditions and heritage to continue. Also oppose merger of the law enforcement of the agencies.
Support long term alternate funding of our Game Commission and Fish & Boat Commission so they can remain fiscally strong and fighting for fair and equitable license when needed. We support and helped pass a fish license increase to provide financial stability to the PFBC and are now working to help pass a license increase for the PGC.
Supported Growing Greener II Bond Initiative that includes $27M for the PFBC and $20M for the PGC.
If PFSC isn't there to lobby for your rights and privelages, who will? Join today so your voice can be heard!